HELP US TO CURATE CONTENT FOR YOU
WHAT'S IN THE SPOTLIGHT?
Know what's happening in the investment space and how you can make the most of it.
In this article you will learn about Differentiating between savings and investing, the importance of savings to achieve financial goals and systematic approach to savings and investments.
3min read
Good personal finance habits are important for each of us. The earlier you adopt these habits, the better it is. But remember, it's never too late to change. If you're looking to overhaul your personal finances, here are some methods to put you on the path to prosperity:
4min read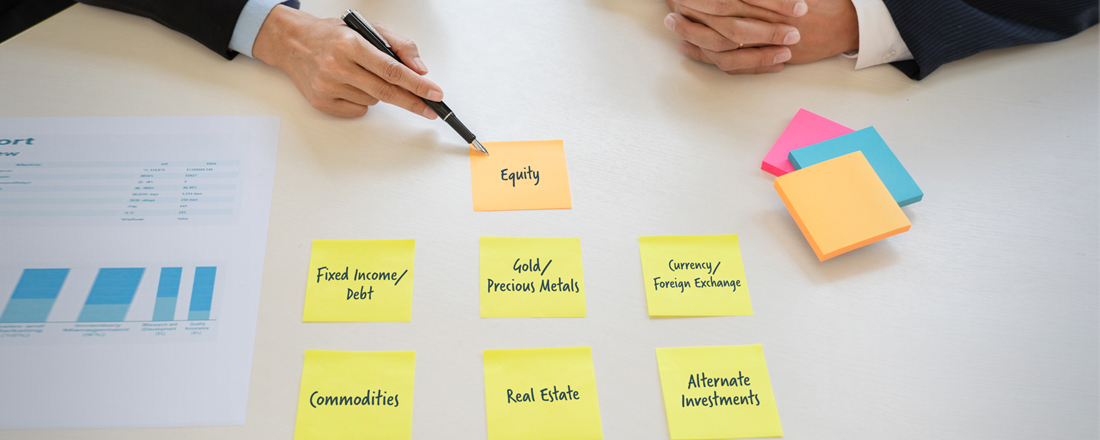 Experts say never put all your eggs in one basket, and that applies to financial investments too. It's always better to spread your money across different asset classes to curb risk.
3min read
CALCULATE FINANCIAL GOALS
Plan and achieve your goals with the help of these calculators
assets/images/aticle/calculator/list/CALCULATOR_0001.png
Goal SIP Calculator
We help you plan for your life goals, with great ease!
assets/images/aticle/calculator/list/CALCULATOR_0002.png
Retirement Calculator
Calculate how much you need for a comfortable retirement
READY TO GET STARTED?
Investing in a better future is always a great idea and it's never too late to get started.
Learning the Basics of Personal Finance
As the name suggests, 'personal finance' refers to the management of your own or your family's financial affairs. It is a discipline comprised of the methods, tools and techniques that set you up for financial stability and prosperity.
Jan 2022
4min read
4min read
To Crypto or not to Crypto
The essence of diversification is creating a portfolio of uncorrelated assets. If we look at the uncorrelated or low correlation asset classes available to the Indian investors, they would broadly fall into seven categories viz: Equity, Debt, Gold & Precious metals, Commodities, Real Estate, Currency & Alternative Investments.
Feb 2022
2min read
2min read
How Market Conditions Can Affect Your Personal Finances
Financial market conditions can change from day to day and fluctuate heavily over time. The financial market crash during the first COVID lockdown saw the Sensex plunge to 25,638 on March 24, 20201 – and yet, just 6 months later, on September 24, the Sensex breached the 60,000 mark for the first time ever2!
Mar 2022
4min read
4min read
PGIM India Asset Management Private Limited
(CIN - U74900MH2008FTC187029)
Toll Free Number: 1800 266 7446
Email: care@pgimindia.co.in
This is an Investor Education and Awareness Initiative by PGIM India Mutual Fund.
All the Mutual Fund investors have to go through a one-time KYC (Know Your Customers) process. Investor should deal only with the Registered Mutual Funds (RMF). For more info on KYC, RMF and procedure to lodge/redress any complaints, visit
https://www.pgimindiamf.com/ieid
.
MUTUAL FUND INVESTMENTS ARE SUBJECT TO MARKET RISKS, READ ALL SCHEME RELATED DOCUMENTS CAREFULLY.
Read more
The information contained herein is provided by PGIM India Asset Management Private Limited (the AMC) on the basis of publicly available information, internally developed data and other third-party sources believed to be reliable. However, the AMC cannot guarantee the accuracy of such information, assure its completeness, or warrant such information will not be changed. The information contained herein is current as of the date of issuance* (or such earlier date as referenced herein) and is subject to change without notice. The AMC has no obligation to update any or all of such information; nor does the AMC make any express or implied warranties or representations as to its completeness or accuracy. There can be no assurance that any forecast made herein will be actually realized. These materials do not take into account individual investor's objectives, needs or circumstances or the suitability of any securities, financial instruments or investment strategies described herein for particular investor. Hence, each investor is advised to consult his or her own professional investment / tax advisor / consultant for advice in this regard. The information contained herein is provided on the basis of and subject to the explanations, caveats and warnings set out elsewhere herein. The views of the Fund Manager should not be construed as an advice and investors must make their own investment decisions regarding investment/ disinvestment in securities market and/or suitability of the fund based on their specific investment objectives and financial positions and using such independent advisors as they believe necessary.